Engineering a new career path with GEMBA 2019's Andrea Suppa
After five years in China, Italian native and Global EMBA 2019 alum Andrea Suppa is now back in Europe. With an engineering background, Andrea has steadily grown his career to reach a highly demanding role with semiconductor market leader Infineon, spanning business development, sales and marketing functions. We asked him to share how it feels to be back in Europe after a meaningful personal, professional and academic experience in the Middle Kingdom.
A time-travelling journey
"It's been something of a shock to the system," Andrea admits. "I left Shanghai in the middle of the lockdown and suddenly I was back in Europe, and everything reminded me of how things were before COVID-19. It's almost like I had travelled back in time. Of course, in reality, it's a very different world now. The pandemic has forced us all to take a step back and assess what we really want from life."
The time he has spent reflecting during the past two-and-a-half years have been put to good use. Despite a top engineering pedigree in the automotive industry (including years with Ferrari and UK-based Ricardo PLC), his long-held ambition was to expand his horizons beyond product-centric roles.
"Back in 2015, I realised that my job as an engineer was somehow limiting my professional choices. If you've developed a lot of experience in a very specific area, it can be quite difficult to change your role, industry or sector because you're almost starting from scratch. I felt a little bit trapped – that's why I was particularly interested in doing an EMBA," Andrea explains.
Going for GEMBA – Finding friends, family, and a future direction
With experience on more than 30 OEM (Original Equipment Manufacturing) projects in China, Andrea has witnessed, and been part of, the country's rapid automotive electrification journey. The quick-fire changes the industry has undergone inspired him to seek out change for his own career. After considering various options (like any good engineer would), Andrea decided to join the GEMBA programme at CEIBS.
"It was the right time and the right opportunity for me. I had been reading extensively and taking various courses online, but I wanted to commit to something more comprehensive. At the time, I was struggling with some typical managerial problems. I knew that an EMBA could help me answer my questions and find better solutions. I settled on CEIBS because even though I didn't want to work in China forever, I did want to make the most of my time here both intellectually and professionally. I wanted to study somewhere that could help connect my experience in China with Europe – so it was a perfect match for that," he recalls.
Very quickly, however, Andrea found that his priorities and expectations of what the EMBA experience could offer him changed. It was not a simple case of finding answers to specific managerial questions in the classroom – it was something much deeper.
"My expectations were focused on learning more about other business functions, perhaps enough to help me change functions or industries. I wanted to progress in my managerial career and maybe explore some entrepreneurial opportunities. However, upon joining, my perspective changed almost immediately. I realised that I was going through a deep, personal journey. It did lead me to the things I was after – I received several promotions within the same company, I successfully changed my role and industry – but they happened because I had a better understanding of myself. Securing a higher salary or a bigger role is not the primary driver in GEMBA. You're there to discover what you are really like as a leader and businessperson, while realising your true potential for self-improvement," he says.
Andrea believes that joining the GEMBA programme was the beginning of a lifelong learning journey for him. While COVID-19 restrictions have kept him and his cohort from graduating, camaraderie in the class remains high, even though they are spread out across the world. The programme's opening leadership module remains a stand-out personal highlight for Andrea. It set the stage for a lifelong friendship group, and marked the beginning of his personal learning journey.
"Memories of the opening module will always stay with me. You get to know all these remarkable people from different countries and industries. It seems incredible that in just eight days, we were as close as siblings. I have classmates who I know will be lifelong friends and learning partners," he says.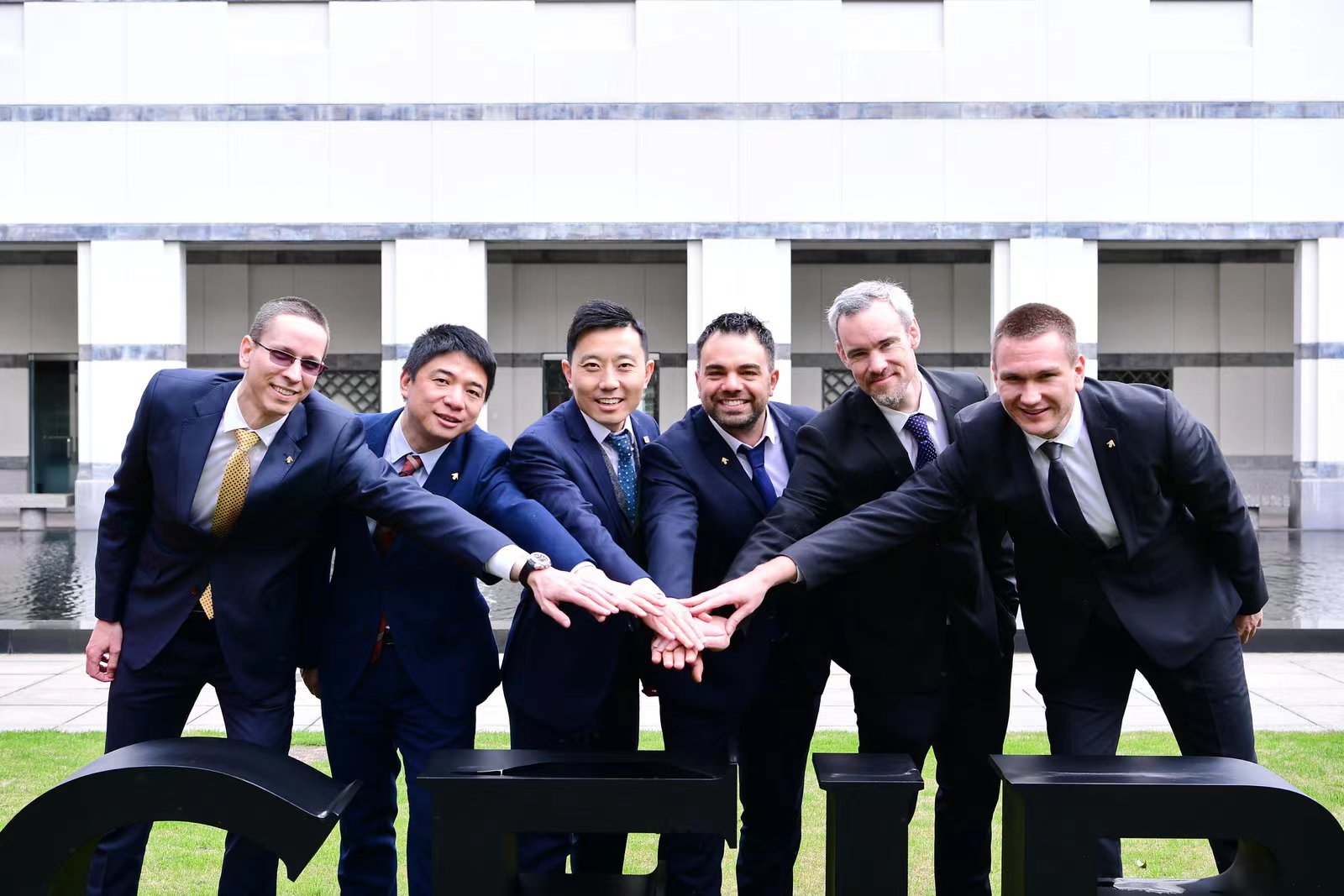 To Infineon... and beyond
Enticed back to Europe by a fresh career challenge and a new personal chapter, Andrea is just a few months into a new position with Infineon. While his engineering expertise is valued by his new employer, Andrea was hired to develop a roadmap for the company's future in automotive applications for its semiconductors, especially in the area of electric mobility.
From timetabling product development and launches to forecasting Infineon's response to industry market trends and technology opportunities, Andrea's new role is both broad and nuanced. It requires out-of-the-box thinking and a healthy awareness of the true extent of Infineon's grasp as well as its reach.
In addition to charting a course for the future, he is also helping to develop go-to-market strategies for Infineon's existing products, as well as looking for customers whose needs can be met with current technological solutions. Together, these factors mean that Andrea needs to look to the future while keeping an eye on the present, which is not always an easy task. However, he couldn't have enjoyed a better start.
"I'm with a new company, in a new country, a new function and a new industry. Everything is different, and I'm at the start of a very steep ramp-up phase. Fortunately, what I've learned from GEMBA has allowed me to focus on what really matters. I can build the right structured process to analyse the situation, the company's current performance, the behaviour of its key people, and generally understand the true dynamics at play. Overall, this has allowed me ramp up much more quickly, so I can try to make a difference within a matter of weeks instead of months or even years," Andrea says.
Fresh start, fresh perspective
"If you want to make a major career change, then you need to be open-minded at all levels. And the best way to broaden your mind is to surround yourself with a mix of talented people from outside your current industry who can open your eyes to new ways of doing things. If you're going to do an EMBA, the best advice I can give is to come as an empty vase. Be ready to learn from everyone you meet, not just from the professors. We had a cohort of around 100 people, and each had at least 15-20 years of experience – this is literally more than a millennium worth of life experience combined! So, whatever the composition of your class, you will find people who can teach you real life lessons. You will learn so much more than the answers to the initial questions that you arrive with," he says.
We wish Andrea the best of luck as he throws himself into his new role and the challenges it brings. While engineering is a highly technical and often product-driven function, he has proven that no one's professional background defines their future career path.
Writer:
Tom Murray
Editor:
Effy He and Michael Thede